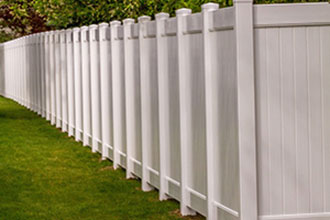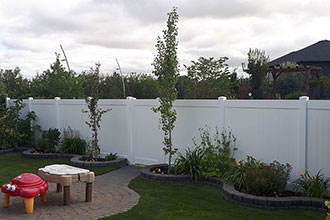 Performance Style
All Fenced In Vinyl fences utilize a routered fence design and make the perfect good neighbour fence. They are a mirror image of each side.
Fenced In Vinyl solid privacy performance fences are made with 5" x 5" .150 wall posts, Kroy's patented 2" x 6 1/2" Heavy duty slotted rails and patented 1" x 8" t&g with a v-groove privacy panel to give the appearance of a 4" board.
We recommend fences be designed with posts between 5ft to 6ft on center and designed for your yard! This gives you a strong and beautiful fence. However we can quote and sell fences in 8ft. sections.
Performance fences are elegant looking and are heavy duty performers.
Stock vinyl colours: White, Tan, Khaki, Sandstone, Weathered Cedar, Natural Cedar
Special order Woodland Selects: Redwood, Chestnut Brown
Available Colors




Cap Styles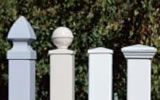 Gothic, Ball, Basic, Classic
Woodland Select
Stock Colors


Special Order